Śnieżne Kotły (Snowy Pits)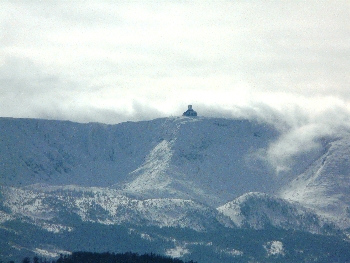 Śnieżne Kotły (1,175 m (3,855 ft) are glacial cirques, situated in western part of Karkonosze mountains in the city of Piechowice. From their top, you can see beautiful panorama of Karkonosze, Jizera (Góry Izerskie) and Kaczawskie Mountains along with Rudawy Janowickie and Jelenia Góra Valley. All of those terrains are remarkable and especially forrested areas can prove to be breathtaking for those who have hiked up the mountains.
Śnieżne kotły are the most remarkable glacial structures in the mountain range. Their uncommon beauty is aparrent in every season. Because of their shape and localisation, they can be a great place for people to cool down in summer, as it is characteristic for snow to stay in their bed to mid-summer, which is much longer than in any other place in the mountain range. In the bigger of cirques (pits), there are two ponds with crystal clear water in them. Anyone who goes there, should see how magnificent they are, with a natural wall, which is around 200 meters high.
Śnieżne Kotły are a perfect example of alpine landscape in Poland. Their structure and specific location have caused them to becaome a safe haven for very rare plants: snow saxifrage (Micranthes nivalis), alpine woodsia (Woodsia alpina) and (Saxifraga moschata subsp. basaltica). Other interesting species that can be found in the area are examples of alpine and arctic landscape, just waiting to be seen and admired.
Wodospad Szklarki (Szklarka Waterfall)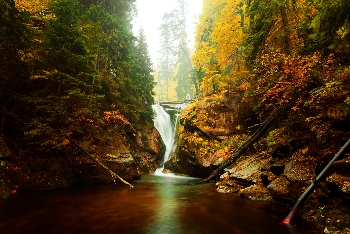 Szklarka Waterfall - second high waterfall in Karkonosze Mountains. Although many people consider it to be in Szklarska Poręba (including those who live around here), the waterfall is still in Piechowice.
It is situated in an enclave of Karkonosze National Park - place where maintaining the environment is the utmost priority. The waterfall along with its picturesque surroundings: forests and the river canyon is a place to visit especially for those who like a long trip, as reaching this destination is incomparably more rewarding, then. The waterfall itself is unique in terms of its looks - the beautiful spiral near the bottom has been known since Middle Ages and later continued to be popular in photos as tourism in Karkonosze began to prosper. The height of this cascade exceeds 13 meters, but it is not the size that matters the most here. The most important feature is the distinct climate: the place is romantic with a hint of mystery. In XIX century an inn was built in the close neighbourhood. The building still stands and has been adapted into a tourist hostel, which enables its customers to take a trip back in time.
Wielki Szyszak
Wielki Szyszak (Elevation: 1509 m (4 950 ft.)) is a granite mountain situated in Karkonosze National Park, right next to the Czech Republic frontier. It is second highest mountain top in Karkonosze, giving in only to Śnieżka on Polish side of the mountains, which makes it a very interesting place to admire the view on the surroundings terrains from. Being close to other interesting places to see, it's a good checkpoint for those who wish to see more of Karkonosze Mountains in one go. There are no hiking trails to this mountain top, as it is a bit off-road; however, reaching it is not a problem - from the eastern side there are stone slabs, built in XIX century by very well known German Schaffgotsch family. On the top there is a monument raised to the glory of German Emperor Wilhelm I: a pyramid made of stone, engraved with a letter W and sculpture of an eagle. Unfortunately, the monument is currently in a ruined state.
Michałowice, Złoty Widok, The Quarries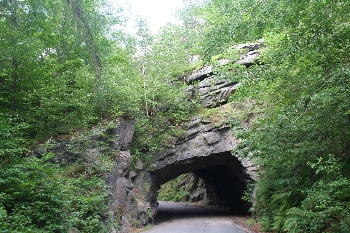 There is a certain charm in mountain roads. Narrow and abundant in dangerous turns, they make even the most adventurous people go at a slow and steady speed, giving a chance to admire great views and get a slight adrenaline rush. Here, in Michałowice, in apart from that kind of road, there is an unique tunnel. Having been hewn in 1920s' in a huge granite rock, it has become a place worth seeing in every season. In summer, it is covered with beautiful greenery, while in winter it is possible to see it completely covered with ice, with long icicles, which sometimes even reach the ground. It is the only such tunnel in this part of Poland.
Złoty Widok (Golden View) and The Quarries - Great viewpoint on the western part of Karkonosze Mountains, Jizera Mountains and Kamienna Valley. From this place, it's possible to observe most Karkonosze peaks and the well renown city of Szklarska Poręba. There are many places in Poland that go by the name of Golden View; however, this one might be the most worthy of the name - the forests around it change into a true golden valley. Leaves change into a whole pallette of colours, with the golden one being the most dominant. Slightly to the west from this viewpoint, there are The Quarries - slopy cliffs where people used to acquire huge granite blocks.
Routes to those places are well marked and pleasant to traverse. Nonetheless, there are options for those who like a challenge and go a little further, as those viewpoints are a great starting point for a hike towards previously mentioned Glacial Cirques.
On the road, there is yet another place of interest - an interesting rock formation that goes by a lovely name of Kociołki (The Cauldrons). It has been discovered over 100 years ago and have been deemed as a sight worth seeing ever since. On rocks, there are over 30 cauldron-like holes of unknown origin. Theories vary: some say that it is an effect of glaciers, like many other formations in the neighbourhood; others insist that the holes were created due to water dripping from the higher grounds and opening the cracks even more, due to it expanding as it freezes. The most interesting theory is that the cauldrons are not of natural origin, but have been man made. In this case, it might have been used as sacrificial ground of pagan tribes. The last theory is supported by the fact that at the foot of the formation, there are caves which would be a perfect shelter from a bad weather.
Szklany Ogród (Glass Garden)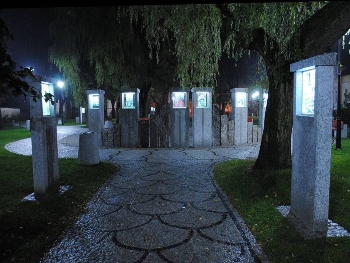 Piechowice are a town in which one of the most important roles was played by glass manufacture. Thanks to a EU Project done with cooperation of a town of Demitz-Thumitz (Germany) the legacy of which is granite manufacturing, the Glass Garden has been created. The park, renovated and, in fact, redesigned from the scratch, has been finished on 5 October 2013. Apart from standard tasks, such as taking care of greenery, planting trees and renovating infrastracture - benches and alleys - new elements have been added. All alleys have been paved with granite cobbles, an attractive square has been created, lighting alements have been installed on the ground level, decorated with beautiful crystal products, crafted in the local glass manufacture. Another element is pedestals set all around the park. On them, there are laser-engraved photographs, created in 3d technology. Pictures show the most important landmarks and traditions connected with glass making. Pictures are illuminated by LED lights, creating the best effect after dark. The aforementioned project has also included making a bike route leading from Polish Piechowice to German Demitz-Thumitz. On the road, it is possible to see how granite and glass complement each other and how crafting those natural resources have influenced the environment, landscape and human beings.
500 year old yew and other natural monuments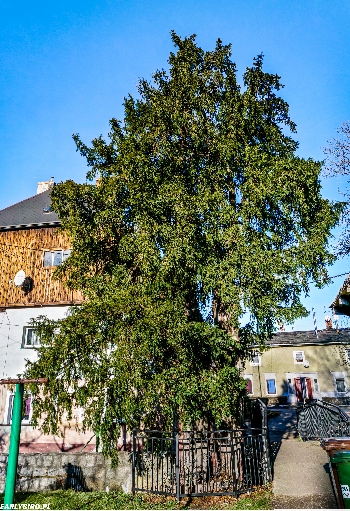 In our city there are quite a few natural monuments, but the most significant and renowned one is the 500 year old yew. It has been recognised as a natural monument in 1994. It's diameter reaches almost 3 meters in the broadest point and it reaches 10 meters in height. In the past it was widly known as a tree which counted more than 700 years in age, but lately, this piece of information has been corrected. The tree has been a place of interest for a long time - the tree has been immortalised on postcards and in periodicals, in articles on tourism.
The location of this monument is on Żymierskiego Street 12 (Main Street in the town).
Among other trees worth seeing, there are: Beech growing on the public playground in town's centre, which has the diameter of 334 centimeters and which is about 30 meters high. Last but not least, there are two old oaks. The first one is localised in city districts: the first one grows in Górzyniec, the second one in Michałowice. The former has a diameter of 354 centimeters, the latter is 354 centimeters wide and approximatelly 30 meters high. Especially the latter one deserves attention, as it is not localised in the optimal climate - 650 meters above sea level and truly rough winters are not conditions which make trees happy and in which they normally grow that well.
"Julia" Crystal Factory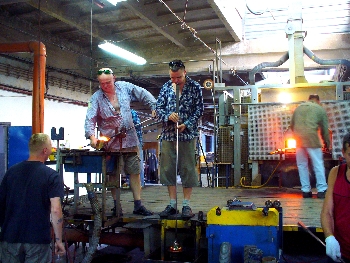 "Julia" Crystal Factory is a place in which history, beauty of glass artwork and traditional methods of crystal making are joined.
Our tour guide will take you in a wonderful world of crystal glass, where you will be able to see its birth. Starting from 9:30 AM you can go through many sections in which, for example, workers use their own lungs to form various shapes from melt, all right next to tourists. After witnessing this magic-like process of creation, it is possible to observe next steps of production: polishing, adorning in many layers, engraving, quality control and finally, packaging the final products, which has to be very thorough so that no piece of art gets damaged.
Starting from 2:45 PM, there is a chance to learn about different aspects of glass-making. During this session, a guide will uncover "The secrets of glass". This session is an exceptional lesson of physics and optics. Participants have the possibility of peeking into the world of history, modern technology and learn many interesting details about crystal glass and its manufacturing.
For those still looking for new experiences - there is a good choice of activities for children and adults - participants can try engraving, making glass jewelry, painting on glass and even (only for adults) working with hot glass.
Sightseeing and workshops are available throughout the whole week, including weekends and holidays.
Learn about our fascinating history and experience the heat of a smelting furnace!
The history of Julia dates back to XIX century and is connected with two german glass producers - Josephine in Szklarska Poręba and Fritz Heckert's in Piechowice. The former began its existence in 1884 during reign of Schaffgotsch family. Because of ingenious architectural skill of Franz Pohl who was the first person in charge of the enterprise - the crystal glass factory was able to reach unbelievable artistic level and its artwork was quickly acknowledged. Crystals of their making were bought by royalty and aristocracy in the whole Europe and in the United States. The level of craft was unmistakably of the highest standard, which was proven when the new technological solutions developed in Josephine, were later copied by Czech and Italian manufacturing competition. The crystals were valued all over the world - they won a golden award on the first International Exhibition held in London. The latter glass factory was built in late XIX century and from the very beginning started to pose great danger in terms of competition. Friedrich Wilhelm Heckert, the person responsible for glass factory in Piechowice, was a royal family member. He hired many world-class specialists from the Czech part of Karkonosze. Because of a very talented team, they were able to keep up the pace with more experienced Josephine. In 1923 both mentioned factories have merged, creating Josephine brand crystals exported on a very large scale. After World War II, when Lower Silesia became a part of Poland, manufactures continued to prosper. after polish artisans learnt the craft from their german tutors. In 1958 the Josephine name was change into Julia, as it is known nowadays. After changing owners in 1999, the factory in Szklarska Poręba went bankrupt and the one in Piechowice faced a major setback. Fortunatelly, in 2006 the major part was bought by another owner, who managed to start production once more, focusing on exporting goods and who opened the factory for tourists.
Cicha Dolina (Silent valley)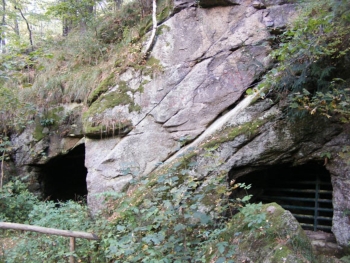 Localised in southwestern part of Piechowice. That is where glass making industry originates from. Its former name "Quirtal" means a "crosswise valley", as it is perpendicular to the Kamienna River. It is surrounded by a spruce forest. "Silent Valley" is a good starting point for longer journeys, to the Karkonosze Mountains peaks. On the way, there are a few grottoes, known for being a natural habitat for bats - rare, endangered animals. They can be seen flying through the forest from time to time, which is a good chance for the nature lovers to observe the wildlife.
Because of the diversified landscape and it being a very rural place, The "Silent Valley" is a great place for scouts and those tourists who enjoy foot orienteering and spending time out camping.
Body of Christ Church in Piastów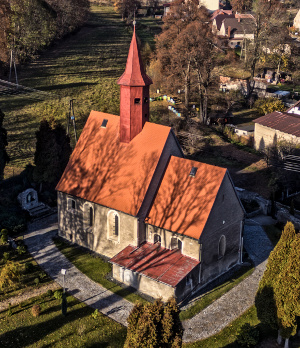 The church is built in baroque-gothic style and was elevated in early XVI century. Inside, there are a few elements worth seeing: a late gothic side tabernacle, altar from 1660, stone baptismal font, late reneissance pulpit and other antique elements, such as bells and organs.
The church is not in the city centre, but in suburbs. It is a good place for those who look for a sanctuary where they can rest far from problems and from the noise of a city.

Neo Romanesque Church of Saint Anthony of Padua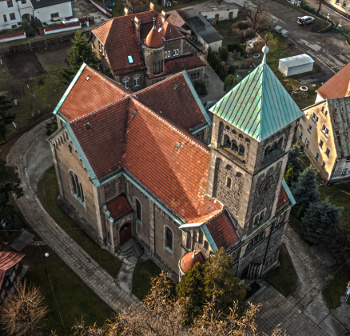 Main city church was built in 1909 year. It is completely furnished in Neo Romanesque style. The building was funded by an Order of Friars Minor nun, from the Schaffgotsch family. In 1911 the building was finished and furnished. All elements inside are cons8idered historical treasures, from wooden benches to altar and Josephine - made crystal chandeliers. All stone elements are done with great detail, each Station of the Cross is a fresco, done with great detail and artistic skill. The high ceiling looks spectacular, especially when it is decorated before the Christmas. The interior is worth seeing for those who enjoy good quality architectural work completed with artistic touch.
Bobrowe Skały (Beaver Rocks)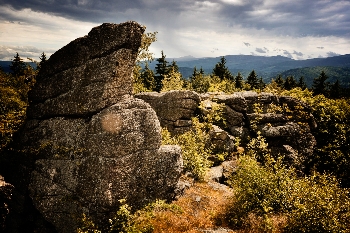 Bobrowe skały (Beaver Rocks) – Granite-Gneiss rock formation in Jizera Mountains. From the northern side, there is a rock wall of 25 to 30 meters heigh. On their top, there is a great viewpoint, from which nearby mountains can be seen. The place is particularly good for admiring views because of its good localisation - very often the weather here is much better than higher in the mountains and it is a great place to witness the Karkonosze mist - fog which covers with its silky surface most of the high mountains and valleys in the distance. It is easy to reach the top of this formation - via metal staircase. In the past it was a very popular place to stop, as quite near to ithe rock formation, there was a hostel, which burned to the ground. Perceptive tourists will be able to find the remains of a building quite easily.
There are two main ways to get there - the first starts in Piastów, from the parking lot, it is less than a kilometer long before reaching the rocks. Another way is from Górzyniec - it requires strong legs and more time to reach the destination from there, but it is worth it - on the way in the summer and autumn, senses are caressed by sweet scent of mushrooms and the forest itself.
Pakoszów Palace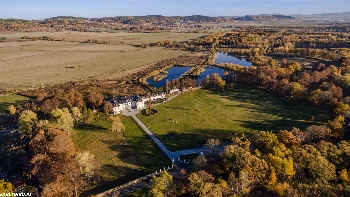 The Pakoszów Palace is situated in Piechowice on Zamkowa Street 3. Details of its elevations are shrouded in mystery. What is known for sure is that the first documented owner of this place was Johann Marin, Mayor of Jelenia Góra. The building have been reconstructed in 1725, so that it could serve as high standard apartaments, as well as linen bleaching manufacture. Throughout the years, owners changed, and because of the World War II, the building's condition gradually deteriorated, for a time left with no owners. Finally, in 2012 the building was bought by Bielarnia Hessa Co - the descendants of the previous owners. The building has been revitalised with great detail and passion, the final effect being breathtaking. Currently, the Palace acts as a hotel and suites are said to make a union between tradition and modern design - creating an effect which overwhelms with comfort and good taste. Except from those rooms, guests can make use of a swimming pool, a restaurant, terrace with available sunbeds and a great view on the mountains, sauna and massages.
The Palace is a place in which many cultural events are hold: concerts, exhibitions and performances. Revitalised interior acts as a means to time travel - it takes visitors back to XIX century with the most important values of the age evident - class and elegancy. Such values transcend time as they never get out of fashion and that was what the owners were aiming at.
Palace is a part of Valley of Palaces and Gardens Foundation and it is deemed as a building of great architectural and cultural value. In 2015, the Palace won a prestigious Traveller's Choice Award in small hotels category - it was said to be the best one in Poland.